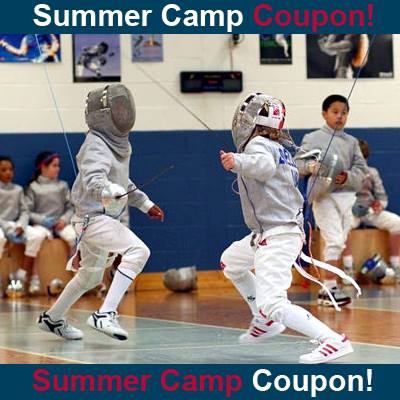 That's right!  We are offering our Facebook fans a $100-off coupon (regular price $175) for our very popular beginner summer camps for ages 7-10.  Our internationally recognized coaches, led by U.S. Olympic Coach, Maestro Arkady Burdan, have shared their joy and passion for fencing with over 1300 children in Atlanta!  We take our beginner camps seriously and not only will your children have fun and get a good workout, they will also learn the  basics of fencing, including footwork, strategy, and good sportsmanship.  They will even get to compete in a tournament!  All equipment and a healthy snack will be provided.
2014 Summer Camp Dates 
Monday-Friday, 9 a.m. to noon
June 2-6
June 9-13
July 14-18
July 21-25
July 28-Aug. 1
Register early to ensure a spot in your week of choice. Claim your coupon now and we will e-mail you the registration code;  you will receive a confirmation and additional information upon registering.  If your plans change, email us at able2fence@gmail.com and we will be happy to accommodate a change, however, we are not able to make refunds.  You must register no later than December 20, 2013 to receive this discount.